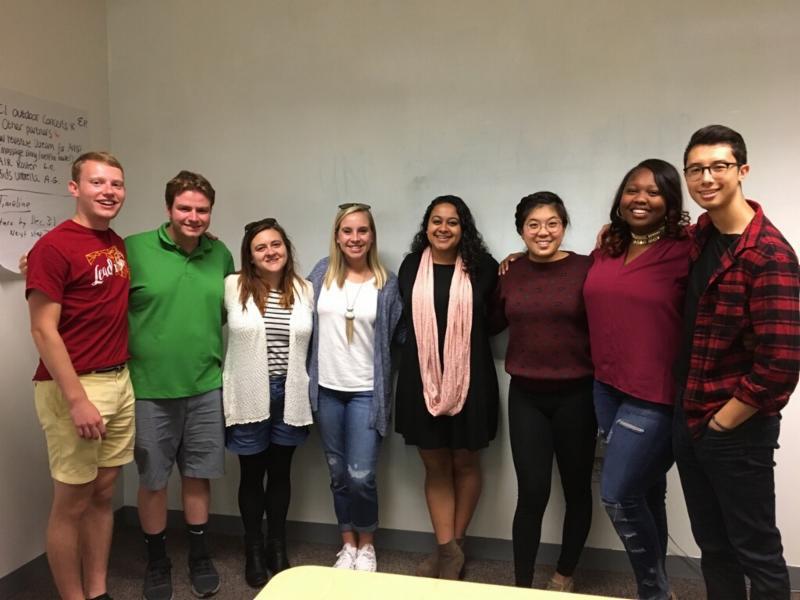 The Program Committee is elected by members of the active staff. General members serve a three-year term. Student members serve a one-year term.
The Program Committee oversees the curriculum development, staff training and program implementation.
2017-2018 Program Committee Members:
Emily Petersen, Chair
Jessica Qiu, Vice Chair
Michael Burgan
Diane D'Costa
Rick Mikulis
Devan Ogburn
Nick Schmitz, Student Member
Maura Wetzel, Student Member
Program Directors are typically senior staff members who have extensive experience with MLW programs. They are selected by the Program Committee. Each year, a Program Director builds on the successes of prior years and bring fresh and relevant ideas, styles, and curricular objectives to the program.
Programs are staffed at a 1:7 staff to delegate ratio. Programs have an independent evaluator to ensure program quality.
2017-2018 Program Directors:
ALS Director – Nia Calhoun
Bridge Director – Kori Jones
Journey Director – Emma Graybill
MSEL Director and Assistant Director – Sandra Goldstein and Tres McMichael
SHW Director and Assistant Director – Emily Petersen and Jessica Qiu
Outreach Director and Assistant Director – Alexya Brown and Nick Schmitz
Staff Training Coordinators – Diane D'Costa and Rick Mikulis
Staff Recruitment Coordinator – Ben Kilduff
If you are interested in becoming part of the MLW Staff, contact us.
Board of Directors
EXECUTIVE DIRECTOR
Anita Durall Anderson
CHAIRMAN
Eric D. Brotman, CFP '09
President & Managing Principal – Brotman Financial Group, Inc
VICE CHAIR
Dr. Memo F. Diriker '12
Director – BEACON – Salisbury University
TREASURER
Jeanne Forrester Singer, Esq. '07
Attorney at Law – Law Offices of Jeanne F. Singer
SECRETARY
Howard S. Freedlander '05
Retired
GENERAL COUNSEL
W. 'Sandy' McAllister, Jr. '94
Principal – McAllister, DeTar, Showalter & Walker, LLC
IMMEDIATE PAST CHAIR
William B. Grant '02
Retired
PRESIDENT & CEO
Renee M. Winsky '05
Leadership Maryland
DIRECTORS
Jean C. Accius Ph.D. '14
Vice President, Public Policy Institute, AARP
Gloria Aparicio-Blackwell '13
Director of Community Engagement, University of Maryland
Kenneth L. Brannan '05
Owner, Saucy Salamander
Kimberly A. Clark '09
Executive Vice President, Baltimore Development Corporation
Ranjit S. 'Ron' Dhindsa, Esq. '04
Partner – Hollingsworth, LLP
Derryck Fletcher
Vice President, Youth Development, Y in Central Maryland
Maryland Leadership Workshops Representative
Jeannette R. Fitzwater '09
CEO, JR Fitzwater & Associates
Wendell M. "Pete" France '12
Principal – The France Group
Eric W. Franklin '09
President – ERIMAX, Inc.
Bonnie Green '07
Executive Director – The Patuxent Partnership
Ilaya Rome Hopkins '12
Vice President, Public Affairs, Montogomery County Chamber of Commerce
Kim B. Leonard '00
President & CEO -Aircon Engineering, Inc.
Sean M. Looney '96
Vice President – Government Affairs – Comcast
Maryland Leadership Workshops Representative
Valencia McClure '15
Director of Communications and Corporate Relations, Baltimore Gas & Electric Co.
Jeanette G. Partlow, Esq. '13
President, Maryland Chemical Company, Inc.
Pamela J. Ruff '98
Executive Director, Maryland Economic Development Association
Susan C. Simmons '06
Director, Parks and Recreation, Caroline County
Maryland Leadership Workshops Representative
Brian T. Spiering '11
Retired
John M. Wasilisin '05
President & Chief Operating Officer, Maryland Technology Development Corp.